Waterford, Michigan, is a hot seller's market, with home appreciation up 167.24% since 2000. 
As of February 2022, typical Waterford, Michigan homes have a median price of $246,000. Single-family homes have a median price of $267,000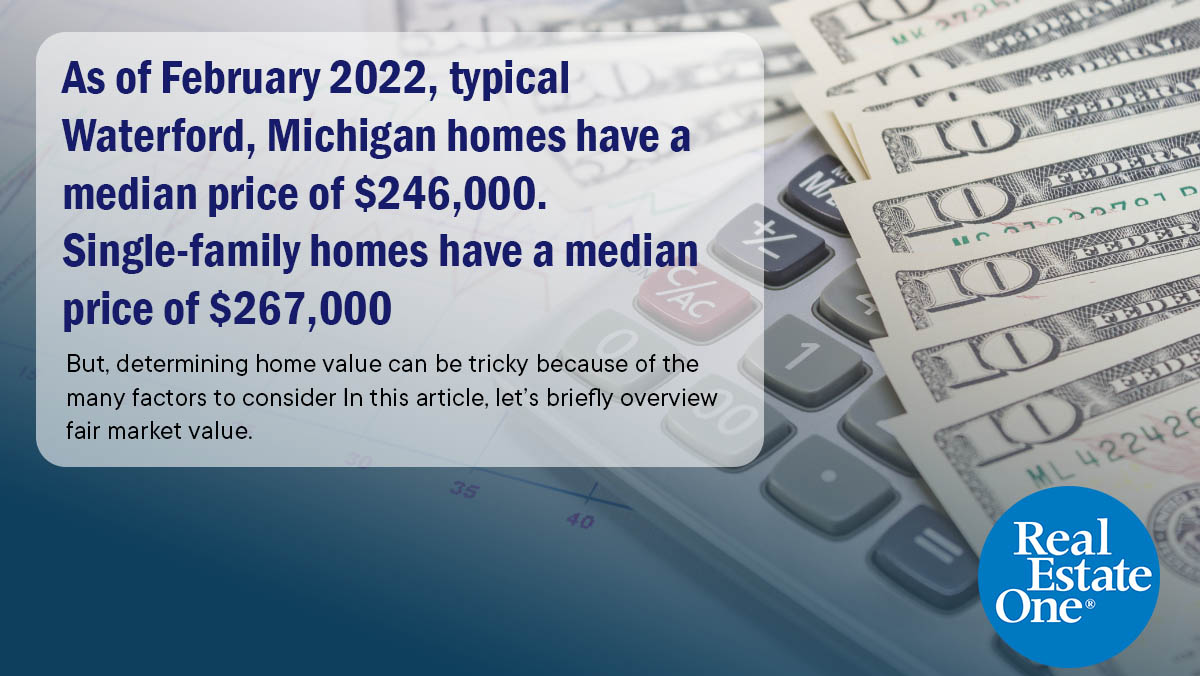 But, determining home value can be tricky because of the many factors to consider. Remember to factor these into your fair market value calculation: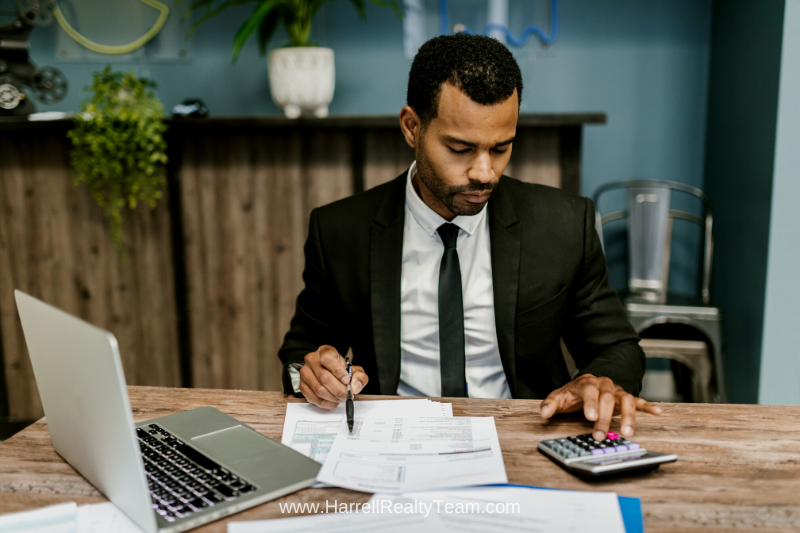 Current housing market state. These factors in comparative market analysis (CMA) result in property valuation.

Home appraisal. A licensed home appraiser values the home. It is based on its condition, square footage, and comparable properties.

Square footage. The fair market value and listing price. The listing price is determined by the valuation per square foot of the home and then multiplied by the total square footage.
In this article, let's briefly overview fair market value. The goal is to help determine the fair market value of your home. To do that, we'll provide you with some significant Waterford housing trends.
---
What is Fair Market Value?
Whether buying or selling a home, you must grasp "fair market value" (FMV) in real estate.
Fair market value refers to the price of a property based on current market conditions. FMV considers the current real estate trends. This includes the property's appraisal value and assessment alongside other comparable home sales in the area.
The fair market value of homes is often determined by the home's agreed-upon value per square foot. This valuation is then multiplied by the total square footage of the home.
To learn more about fair market value and home appraisals, you can check out our blog post here.
Purpose of Fair Market Value in Real Estate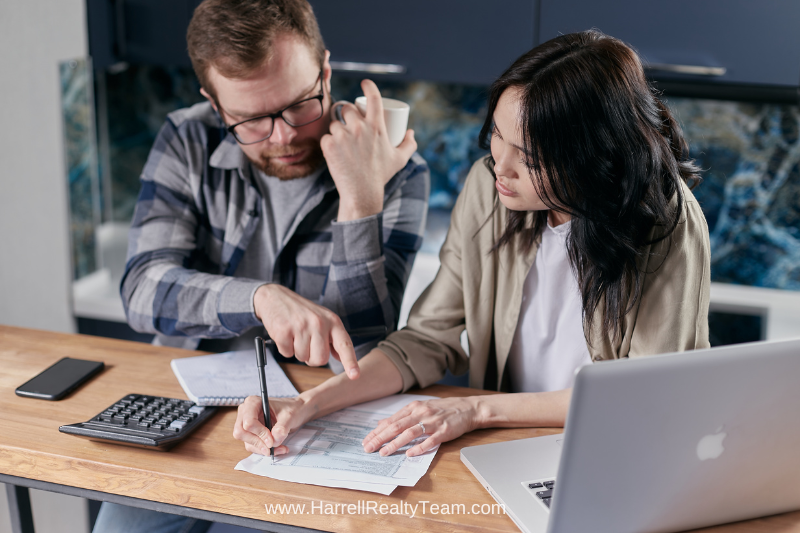 Determining fair market value is important for home buyers, home sellers, and investors. It is used to figure out how much property tax people should pay. It also helps to know how much insurance money people should get, and how much people can borrow for a mortgage. 
Final home sale price
Pricing for a home should depend on fair market value. Home sellers need to decide on a listing price. It should be competitive with comparable sales in the area. Sellers should be careful to value the home, as this will result in revenue loss.
There are times when fair market value differs from the final listing price. Supply and demand will play a significant role in deciding the sales price.
Homeowner's Insurance Policy Quotes and Rates
Insurance companies take fair market value into consideration. This may affect the premium that the homeowner has to pay. This establishes the amount of compensation the insurance provider will provide. When? Well, in the event of property damage.
Mortgage Loans
Before home buyers can get a loan, lenders will usually need them to get a home appraisal. The lender will consider the appraisal. Lenders ensure they lend the right amount for the home's value.
Property Tax
The homeowner's property taxes can go up or down depending on how the property is assessed. The value of a home can go up or down, but the homeowner's taxes will remain the same.
---
Call me when you are thinking of selling your house for sale for a comprehensive checklist.

⭐ Robert Harrell – Realtor®
📞 248-830-1870#NationalChecklistDay #DueDiligence #SellerChecklist #SellForMoreMoney #SellForTopDollar #HarrellRealtyTeam #RealEstateOne #WaterfordMIRealtor pic.twitter.com/qS8WtKXpro

— Robert J. Harrell (@Robharrell123) October 30, 2022
Waterford, MI Housing Market Trends
Do you want to understand the current housing market? You should evaluate your home's fair market value. This will help you know what your home is worth in this market.
Living in Waterford, MI
So what's the best thing to do before we get into the details of the Waterford real estate market? It's important to understand the living conditions and demographics in the area. This will affect the pace at which demand for Waterford housing rises.
Waterford, Michigan is a medium-sized township. It consists of a population of 70,560+ citizens and 20 constituent neighborhoods. 
There are 17 schools in the Waterford school district. According to usnews.com, there are 8,160+ students in Waterford. Then 92% of them pursue post-secondary education. The Waterford school district is known to be outstanding.
There is a healthy mix of available white and blue-collar jobs in Waterford. Most of the township employs professionals, service providers, and sales and office workers. Meanwhile, the unemployment rate grew from 3.6% in December 2021 to 4.2% in January 2022.
According to point2homes.com, the median household income in Waterford, MI was $59,119 in 2021. This was lower than the 2021 national median family income of $79,900 in 2021. 
Waterford, MI Real Estate Market
According to the US census, there are 30,830+ homes and apartments in Waterford. 73.1% of these homes are owner-occupied housing units.
Appreciation of homes in Waterford, MI has ballooned 167.24% since the first quarter of 2000.
As of February 2022, a typical home in Waterford, MI is valued at $246,000. The overall Waterford home prices grew 16.7% compared to the previous year.
Meanwhile, single-family homes in Waterford have a median price of $267,000. Condominiums are valued at $219,000.
According to the Redfin agency, Waterford homes sell 1% above the list price. And they usually stay on the market for 14 days. In-demand homes can sell for 5% above the list price and sell after 5 days.
The average sale-to-list price for all home types in Waterford is 99.8%, up 0.9% year-over-year in February 2022.
Most Expensive Waterford Homes Sold in 2021
According to ctpost.com, these homes had the highest price tag in 2021:
At number one, a single-family house located on Center Road sold for $640,000. The property's price per square foot was $178, and it has a 3,597-square-foot living area.
Meanwhile, in second place, a single-family home located in Lower Bartlett Road sold for $439,000. The price per square foot was $151. The house has a total square footage of 2,906 square feet.
According to Neighborhoodscout.com, these are the highest appreciating Waterford homes since 2000:
Clintonville

Waterford South

Waterford Southeast

Hatchery Road / North William Lake Road

S Service Road

Waterford North

Pontiac Lake Road / Irwindale Drive

Four Towns

Waterford Southeast

Drayton Plains / Town Center
If your home is located in any of these areas, your property's fair market value may be higher than expected.
---
Competitive Seller's Market in Waterford, MI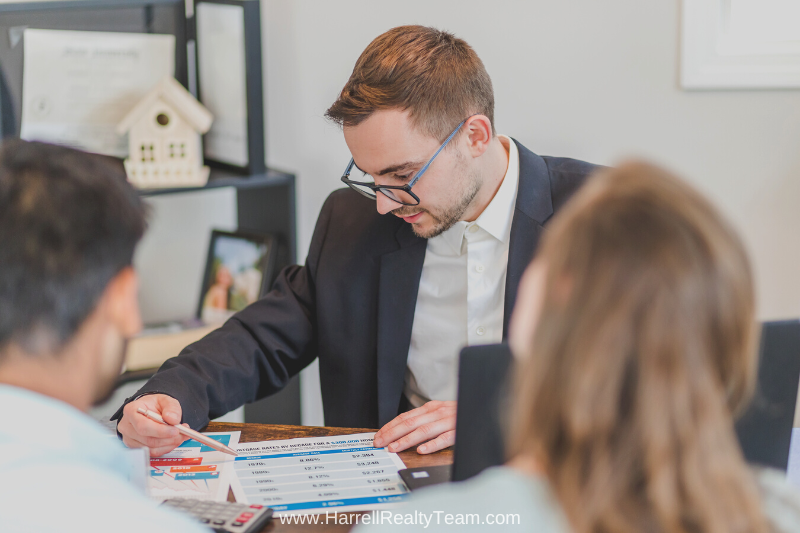 The housing competition in Michigan is steep. It ballooned from $226,880+ to $257,990+ in 2022. Due to the overwhelming demand for Michigan housing, supply has stayed low since 2020. This drives up the fair market value of homes in Michigan.
Waterford, MI home sellers are interested in making the most of the hot seller's market. They should focus on making the home more sellable. This is possible through seasonal maintenance and popular renovation options, including kitchen or bathroom upgrades, hardwood re-flooring, and replacing old carpeting.
---
Final Thoughts
Are you a buyer who wants to find a good-value home in a competitive seller's market like Waterford? You need professional guidance on market research, comparative market analysis, and negotiations.
Get in touch with me, Robert Harrell – Realtor® of harrellrealtyteam.com/. I will be happy to share my expertise on fair market value and Michigan's home selling/buying process.